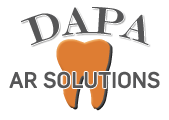 DAPA AR Solutions
Your Success Is Our Business
Empowering clients to create and maintain effective financial strategies while providing the most professional, ethical and innovative collections solutions.
Why Hire DAPA?
What We Do
Why Hire DAPA AR Solutions?
Is your production to collection where it should be? Are your insurance fee schedules correctly entered? How much have you written off due to untimely or incorrect filing with insurance companies? Does your practice need a financial tune-up?
With today's laws, the best way to comply and keep your information safe is knowing where it is. Our business is here to protect your investment.
This is how we differ:
In House Legal Staff
DAPA AR Solutions has our own in-house legal team to help clients with our various service offerings.
In House IT Staff
Our dedicated IT Staff is always here to help. Any problems just give us a call.
Have an expert DAPA team member diagnose your practice today.
Providing the highest quality eBilling and Accounts Receivable services for the dental industry.
Your Success is Our Business!
What We Do:
Insurance Verification.
Posting Insurance Checks.
Work all insurance and patient aging reports.
Send/audit batched primary and secondary claims with attachments.
Audit patient ledgers.
Make needed adjustments to patient account.
Work 30-60-90+ aging reports and uncollected balances.
Correct and resubmit any and all claims.
Update fee schedules.
Provide spreadsheets for balance write-offs.
Phone
407-721-4136 (customer service)
407-807-0566 (main office)
Address
5107 Andrus Ave.
Orlando, FL 32804